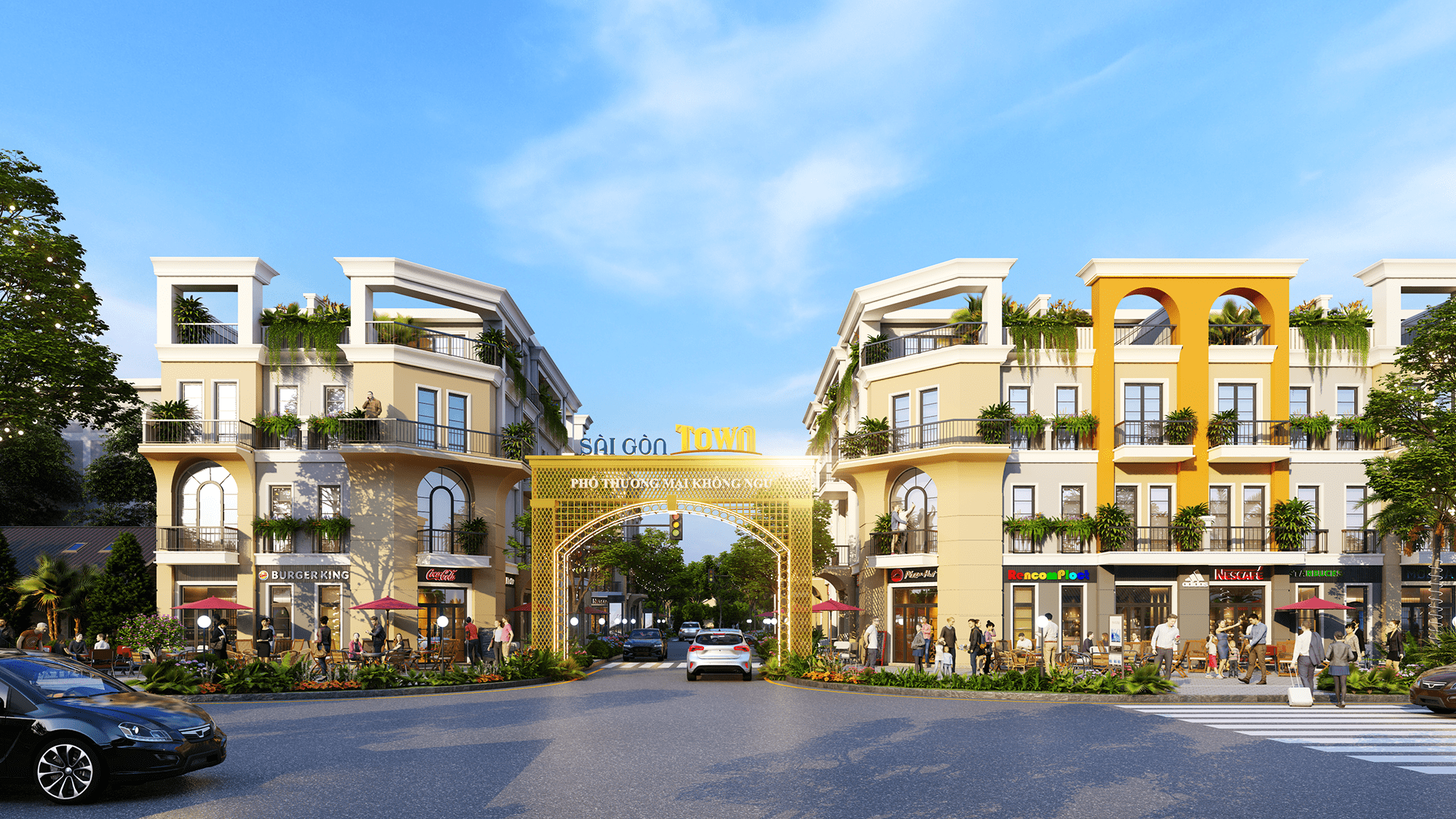 Project overview
We built a miniature version of Saigon in the center of Tan Tru town, starting from sleepless Saigon, gorgeous scenery, and affluent business buildings on Bui Vien Street. Saigon Town - The first and most bustling sleepless business street in the area will be a place of business, trade, and services, and entertainment to serve more than 80,000 people in Tan Tru district and other areas. 
Project location
Saigon Town resembles a "roundabout" where the three main thoroughfares in Tan Tru Town—Nguyen Trung Truc, Cao Thi Mai, and the proposed road—intersect.
03 Business fronts – Unique and central location
Saigon Town is like the "heart" uniting all beats of movement, trade, and indigenous culture. It has a modest area of 1.1 ha and is situated on three street fronts (Nguyen Trung Truc, Cao Thi Mai, and project road), right in the administrative center of Tan Tru Town. All are included in the process of preparing Tan Tru to become a grade IV city by 2030 and then a grade V city after that.
Project Utilities
With the desire to create a true "quality" commercial area of Saigon: generous, dynamic, bustling, busy; The project of mixing urban colors into 3 parks: Saigon Garden Park - Saigon Wonder Park and Saigon Zone Multi-Purpose Court for residents who can come to "Saigon" to enjoy shopping and entertainment at any time at Tan Tru.
Saigon Zone multi-purpose court
An outdoor "healing" garden that will serve a variety of purposes, including providing inhabitants with street art exhibitions, event spaces, and courts for basketball, badminton, and tennis. There is a playground nearby as well, giving kids a place to play with their friends and parents some peace of mind.
Saigon Garden Park
The park has seating areas and is landscaped with trees and flowers. A grassy area where everyone can breathe clean air and go for weekend family walks. More impressively, this check-in location also has a water wall and a special water element.
Product
Only 75 unique Shophouse goods are available in the project, which features Mediterranean and Neoclassical design elements
– that evokes the opulent appearance of French homes while still giving the impression of a bustling business street.